First and foremost, all medical health checkups are important. However, some are slightly more vital than others — for instance, pre-marital health screening.
New Straits Times reported in December 2018 on discussions held between the former Minister of Women, Family and Community Development and the Home and Finance ministries on implementing mandatory HIV testing for non-Muslim couples seeking to get married.
Its former minister, Datuk Seri Dr Wan Azizah Wan Ismail, said that since non-Muslim marriages fell under civil law, such testing involves various costs. Therefore, concrete dialogues needed to be held with the other ministries before taking any measures.
"Right now, there is no law which compels non-Muslim couples seeking to get married to go through HIV testing. In principle, we support such a move, but it involves costs and civil laws, so we will have to come to an agreement," she said at the Dewan Negara.
On the same note, Mohana Muniandy, a former MIC Wanita leader, has started a petition last year (2021). She intends to persuade Putrajaya to make pre-marital courses compulsory for non-Muslim couples and mandatory for non-Muslims to get an HIV test before getting married. 
Muniandy's cause of action was prompted due to the increasing amount of divorces cases over the years due to petty issues. Based on her change.org petition, such courses will educate men and women in a relationship on the married life they are about to embark on and how to overcome disputes.
The statistics department also shared an increase in non-Muslim divorces by 8.3%, from 10,593 (2018) to 11,473 (2019). Therefore, the Crude Divorce Rate (CDR) for non-Muslim couples increased from 0.8 (2018) to 0.9 (2019) per thousand non-Muslim population.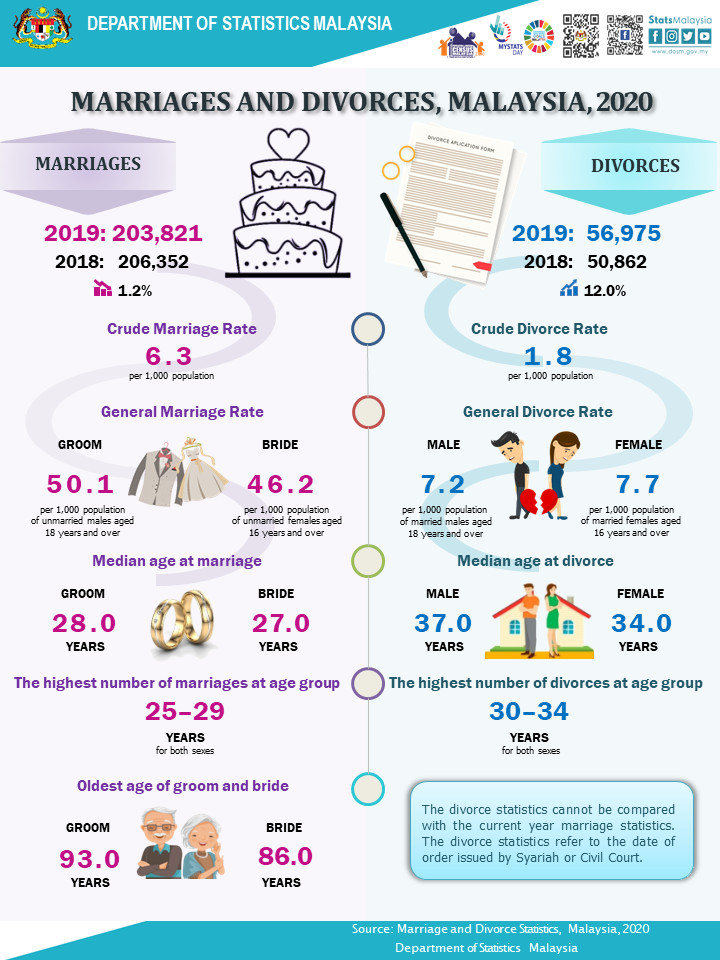 Consequently, the government should advocate and make it mandatory for non-Muslim couples who want to marry in Malaysia to take a pre-marital course and undergo HIV testing, further stated in her petition.
In an interview with FreeMalaysiaToday, Muniandy expressed that rights, duties and responsibilities in a marriage should be educated to pre-married couples. They can better understand and be aware of the challenges, including health, and make them more open to embarking on this marital journey.
Former MIC Wanita leader also expressed that when a man and woman know they want to spend the rest of their lives together, they ought to take sensible steps to ensure that all is in order before getting married. 
So why all the fuss about pre-marital health screenings in Malaysia? Are HIV tests necessary for men and women before entering married life?
We at QM Care by QMed Asia believe that pre-marital testing decreases families' financial, physical, and psychological burden through proper diagnosis and counselling. 
We advocate for a healthy and happy marriage based on love and respect for another while accepting each other's differences. So how we can contribute to this is by ensuring seamless pre-marital health screening or HIV testing for all.
Pre-Marital Health Screening and Why Pre-Wed Couples Need To Book HIV Test
Pre-marital health screening is a medical health checkup for men and women, especially if they are in a relationship and will soon be tying the knot. At present, only Muslim men and women who wish to get married in Malaysia must undergo HIV testing before marriage.
Infectious diseases such as sexually transmitted infections and common inherited blood disorders are among the reasons why men and women are required to go through pre-marital health screenings.
Full body medical checkups and HIV tests by QM Care can also underline any unforeseen health problems from infectious diseases and genetic blood disorders. However, all can be highlighted and treated ahead of time, preventing dangers to their partner and offspring if they ultimately decide to start a family together.
Pre-Marriage Screening Co
mmon Tests For Infectious Diseases 
HIV screening

VDRL test for Syphilis

HPV test for women (At Home)

Hepatitis A

Hepatitis B
Crucial Tests Performed Among Malaysian Couples
Thalassaemia

Blood group and rhesus study
QM Care Pre-Marital Health Screening Packages
Pre-Marital Screening (Male/Female) –

RM226 includes a mobilisation fee and a 10% discount for bookings made from April 1st to April 30th.
Pre-Marital Screening (Combo – 2 pax) –

RM399 includes a mobilisation fee and a 10% discount for bookings made from April 1st to April 30th.
You can also book your HIV test online! Then, follow the simple steps by choosing a suitable date and time once you decide on QM Care's pre-marital screening packages.
All bookings for HIV tests must be made a few days before the appointment and may be subject to availability. Please bring along your necessary documents and ID.
Note that some tests may require you to fast beforehand, but you may contact us for further enquiries, and our friendly colleagues will be happy to assist you!
It is crucial to fully comprehend your significant other's health status, especially if there are plans for offspring in the future. As the saying goes, honesty is the best policy and truly is one of the essential foundations of a marriage.
At QM Care by QueueMed Asia, we provide an extensive range of the best health screening packages in Malaysia, including HIV test or pre-marital health screening, full body medical checkups, ujian darah dan pemeriksaan kesihatan asas. So if you and your beloved partner wish to undergo a pre-marital health screening before officially sealing the deal, do not hesitate to contact us at +603 3310 0097 to book an appointment today!
Reference:
New Straits Times: Govt seeks to make HIV testing mandatory for non-Muslim couples seeking marriage as well

Free Malaysia Today: Make pre-marital courses, HIV test a must for all, says former MIC leader